Short stories, review and readers' questions
Coming soon – six stories published on a new pay-per-story site –

 – details to follow in the next few weeks (some old and new stories will be up on the site). See also a new article out on the influence of film and drama on short stories – see the articles page on this site. 
Also – early in 2014, I'll be chairing another series of seminars in London, this time focused on the short story. Details to follow soon. In the meantime, why not check out the current OU seminar series  – 'Writing Funny – Language, Creativity and Comedy', running from October through to December.
If you haven't already seen it, read Pete Kelley's EDP review Book of Guardians
And after further requests  here are reading group questions again – they'd fallen to the bottom of the pile and out of view – some posed by me and some posed in interview by Stephanie Norgate from Chichester University (the questions were too good to lose):
Some Questions for Reading Groups           Chichester interview questions on The Book of Guardians
_____________________________________________________________________________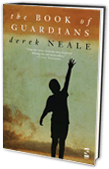 London reading – still hunting for time and place.
New Article – in New Writing shortly – all about those first images that mean so much to writer and reader when it comes to novels – not least The Book of Guardians. The publishers have kindly made a limited number of free e-prints available from their site – see here – and see the articles page on this site for more details about the article ('Writing and dreaming primary and primal scenes')
News on readings so far – fantastic audiences both in Norwich and Chichester. Apologies for the lack of seats and time for questions at the former, but what a turn out. Captivating discussion at the latter – Stephanie Norgate began by saying –  'The Book of Guardians is a gripping psychological thriller about the possibilities of self-knowledge, the possibility and impossibility of interpreting our own and others' lives and the role of fatherhood'.
Here are a sample of the intriguing and informed questions posed by Stephanie – Chichester interview questions on The Book of Guardians – they might well be of use to reading and book groups.
        _____________________________________
 Two readings and discussions coming up this month:
Chichester University – November 14,   5.15 pm  (an interview with readings) –       see The Book of Guardians reading in Chichester
Norwich Millennium Library – November 23, 6 pm  – see Book of Guardians reading Norwich
– this latter one with Jonathan Taylor (Entertaining Strangers) and Booker-short-listed Alison  Moore (The Lighthouse) in association with Writers' Centre Norwich, Salt Publishing and Waterstones.      See the press release – The Book of Guardians reading – Norwich